*Originally posted at Learning Exchanges on 8 October 2009
The level 1 History module, "Presenting and re-presenting the past" is viewed as a shared project between staff and students. The intention is that students and staff will engage as colleagues in engaging with its content, concepts and meanings, in order to understand more critically how History as a subject develops, and why and how it matters to different societies. The module is divided into 4 blocs, each dealing with a particular topic/issue.
What is history and what do historians do.
The relationship between the practice of academic history on the one hand, and public or popular history on the other.
Issues relating to sources, research and the ways that historians handle and use "evidence" in their arguments.
The recent attacks on history and historical knowledge, and how historians have attempted to defend their discipline.
Underpinning the module is a core theme, namely that: history and historical writing are contested.
The teaching team hold to the belief espoused by Gramsci that we all have the ability to flourish as intellectuals in everyday life, and that we all have the potential to become ourselves-as-academics. As a result, the team strive to provide an environment to support its aspiration that all students succeed. The team believes that all learners are studying at De Montfort University because they want to develop as individuals and want to enhance their critical thinking. Our ethos is to challenge students to make good, personal decisions about what to read, what to write, and what decisions and actions to take.
The place of the learner within this context is represented by this adapted version of the Ravensbourne Learner Integration model, with feedback from a variety of communities of practice being key.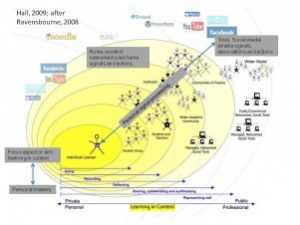 Learner Integration Model in Fused Learning Environments
See Hall, R. Towards a fusion of read/write web approaches. EJEL, 7 (1).
The technologies that support these aspirations are designed to extend the face-to-face contact that is available. We expect that students will attend or engage with all formal, timetabled activities, namely lectures, seminars and tutorials that are driven by socio-constructivism, activity and participation. However, we are clear that social and individual, independent learning activities are crucial in developing learning citizenship.
Blackboard provides a shared on-line space to access learning materials/tasks and discussions for each area of work on the module. Generally content will be presented in MS Office format so that it can be repurposed easily by learners. For some blocks of learning or key concepts we will also post podcasts or short videos. Instructions will be given on Blackboard about how to download or access these files. Blackboard also provides security that assessments can be backed-up and submitted in a secure space. Students are expected to submit all assessments: book and web reviews; and both essays; into our Plagiarism Detection System, Turnitin. This is accessed through a link in Blackboard.
Ning allows the students to build their own profiles and create their own identities in a safe space that is closed to the wider web, but is more engaging than Blackboard. The intention is that this will encourage shared discussion of concepts, readings, ideas and assessment. The forum tool is used to engage learners in weekly tasks like discussions of objectivity and morality in History. There is also a Twitter feed that picks up the #hist1002 hashtag, so that staff or students with Twitter accounts can post ideas or feedback. Finally Huddle workspaces are provided for the group presentations that are planned and delivered during the first semester.
Ning can be accessed from the module home page on Blackboard, and it enables all students and staff to post and read messages, or start conversations. In the first instance, specific tasks will relate to particular seminar discussions and will involve the Forum tool only. Over time the students will be introduced to Huddle and Twitter, as possibilities only, in-line with the technological model presented below. There is a tension between presenting a coherent structure and a set of tools that overwhelm. So the early use of Blackboard and Ning forums/profiles is to support the production of the first assessment, a 700 word book review.
External web resources are housed on diigo accessed via Blackboard. However, in order to reduce student (di)stress this is managed by the tutors in the first instance. As students prepare for their second assessment, a 700 word web review, they will be invited to use diigo, to create a shared set of resources for the community and to understand tagging, annotating and managing resources for a specific purpose. Diigo is also linked to from Blackboard, so that there is a common framework available.
Students have to submit two essays in the Spring, on the public perception of History and on History and controversy. They can work this up via Googledocs or MS Word. The final piece of assessment is a learning log on Blackboard, which is a means to reflect on progress as a learner and as an historian at critical times in the session (e.g. assessments). Maintaining the log is done via Blackboard (secure and individualised/private), and is continuous in nature. The quality of contributions is formally assessed. The intention is to gradually extend the learning environment in a controlled way, to enable students to manage their transition into HE and to identify and model historical practices in a set of safe spaces.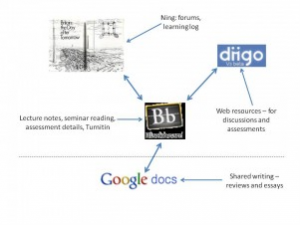 HIST1002 technological model