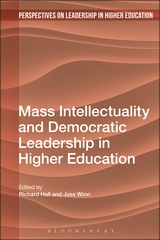 Working with 20 co-authors, Joss Winn and I have just had published Mass Intellectuality and Democratic Leadership in Higher Education. The edited collection forms part of Bloomsbury Academic's series on Perspectives on Leadership in Higher Education.
The abstract, key features and table of contents are noted below.
Abstract
Higher education in the UK is in crisis. The idea of the public university is under assault, and both the future of the sector and its relationship to society are being gambled. Higher education is increasingly unaffordable, its historic institutions are becoming untenable, and their purpose is resolutely instrumental. What and who have led us to this crisis? What are the alternatives? To whom do we look for leadership in revealing those alternatives?
This book critically analyses intellectual leadership in the university, exploring ongoing efforts from around the world to create alternative models for organizing higher education and the production of knowledge. Its authors offer their experience and views from inside and beyond the structures of mainstream higher education, in order to reflect on efforts to create alternatives. In the process the volume asks: is it possible to re-imagine the university democratically and co-operatively? If so, what are the implications for leadership not just within the university but also in terms of higher education's relationship to society?
The authors argue that mass higher education is at the point where it no longer reflects the needs, capacities and long-term interests of global society. An alternative role and purpose is required, based upon 'mass intellectuality' or the real possibility of democracy in learning and the production of knowledge.
Key features
The book critiques the role of higher education and the University as an institution for developing solutions to global crises that are economic and socio-environmental. In this way it offers an analysis of the idea that there is no alternative for higher education but to contribute to neoliberal agendas for economic growth and the marketisation of everyday life. The restrictions on the socio-cultural leadership that emerge inside the University are revealed.
The book describes and analyses concrete, alternative forms of higher education that have emerged from worker-student occupations, from academic engagements in civil society, and from the co-operatives movement. These projects highlight a set of co-operative possibilities for demonstrating and negotiating new forms of political leadership related to higher learning that are against the neo-liberal university.
The book argues that the emergence of alternative forms of higher education, based on co-operative organising principles, points both to the failure of intellectual leadership inside the University and to the real possibility of democracy in learning and the production of knowledge. The concept of 'Mass Intellectuality' as a form of social knowledge that is beyond the limitations of intellectual leadership inside the University is critically developed in order to frame socially-useful responses to the crisis.
Contents
Introduction
Mass Intellectuality and Democratic Leadership in Higher Education ~ Richard Hall and Joss Winn
Section One: Power, History and Authority
Section Two: Potentialities
Section Three: Praxis
Conclusion: Politics, Aesthetics and Democracy
Practicing What We Preach? Writing and Publishing In, Against and Beyond the Neoliberal University ~ Gordon Asher