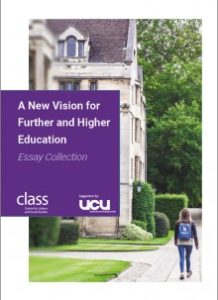 With Sol Gamsu, I have co-edited A New Vision for Further and Higher Education, published by the Centre for Labour and Social Studies. Launched at the recent UCU conference, the report is available from the CLASS website.
The abstract is as follows.
Our systems of further and higher education are no longer fit for purpose. After decades of marketisation and years of austerity cuts, recent high-profile strikes in the education sector signified a service at breaking point. But what to do? How do we pursue education, not as a commodity, but as 'the practice of freedom'?
How can we dismantle the elitism of higher education, the degradation of further education and create a system that promotes the values of justice, hope and solidarity? There are no easy answers but this collection of essays hopes to start a conversation about how we move forward.
The report was discussed at a recent West London Socialist Educational Association meeting. A report of that meeting, entitled Education and Wandsworth Transformed, can be found here.