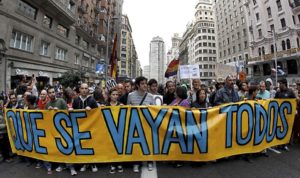 ¡Que se vayan todos!
They all must go.
Enough is enough. These people who claim to lead. These people have no moral authority. These people who are making decisions that affect our lives and the lives of those who are vulnerable and the lives of those whom we hold dear.
Enough is enough.
They all must go.
---
In the midst of the Covid-19 outbreak, we realise just how pathological is the University. We realise just how diseased are its forms and its content, in terms of its cultures and its activities. The University creates a morbidity that is replicated in physical and mental ill-being and distress amongst those who labour inside it. University responses to the pandemic, claiming validity from the response of the UK Government, which itself lacks moral authority and that appears out-of-step globally, increasingly creates suffering. This is amplified because being out-of-step has been echoed by contradictory statements or no statements at all. These (non-)statements are being interpreted as failures by international staff and students, as well as those from the UK, who are well aware of alternative responses to the crisis.
Yet, we know from our reading of Marx and Engels, in The Communist Manifesto, that States, and the institutions that reside within them and relate to them, prioritise economic value, profit and surplus over people, and seek to maintain infrastructures upon which Capital can flourish. There is no place for morality or humane values unless they lie in the service of value-production.
The executive of the modern state is but a committee for managing the common affairs of the whole bourgeoisie.
We know that capitalist institutions only care for family or caring responsibilities, or communities, where they do not conflict with the production, circulation and accumulation of surplus-value. Relationships of care and love will always be secondary to the generation or sustainability of surplus. Thus, Marx and Engels write:
The bourgeoisie has torn away from the family its sentimental veil, and has reduced the family relation to a mere money relation.
This is one of the reasons why academic and professional services' staff have been on strike over the unsustainable, intensification of workloads, the casualisation and making precarious of so many lives, and the toxic inequality in pay and conditions for academics of colour and women in the Academy (and we might extend this to those who are disabled or queer, or who define themselves intersectionally).
On a global terrain, individual institutions are relatively powerless. The operation of the bourgeoisie occurs transnationally as a class project, and to expect an individual institutions to act against the interests of the class that governs them, is nonsensical. Moreover, Marx and Engels go on to highlight how crisis is at the centre of this project:
uninterrupted disturbance of all social conditions, everlasting uncertainty and agitation distinguish the bourgeois epoch from all earlier ones… All that is solid melts into air, all that is holy is profaned, and [humans are] at last compelled to face with sober senses [their] real condition of life and [their] relations with [their] kind.
Inside capitalist social relations, crises are normalised at the level of society, be they financial, human, involving war, famine, flooding, and so on. These are constant moments for working out ways in which living labour and human lives can be further exploited, as the very essence of Capital – as its means of life.
Individual institutions, managed as joint ventures with a range of commercial partners, educational publishers, technology providers, consultants, and so on, reflect the fact that:
The bourgeoisie cannot exist without constantly revolutionising the instruments of production, and thereby the relations of production, and with them the whole relations of society.
The dynamics of capitalist social relations mean that people as living labour are always subsumed under the need to expand surplus, or to maintain systems designed for the extraction of surplus through the exploitation of labour-power. We know that the impact of the financial crisis of 2007/08 has been work intensification, precarious employment, internationalisation strategies that threaten the climate, increased commodification and financialisation. University life has been accelerated with all spare capacity turned over to surplus and the rule of money.
---
We have seen the institution really subsumed under these logics, to the extent that they have become anxiety machines or pressure vessels. Increasingly then, the University is seen to be operating as a collection of spaces in which suffering, anxiety, ill-being are normalised, and where immunosuppression or compromised immune systems are further compromised, in the name of value-for-money, impact, entrepreneurialism, efficiency and now business-as-usual. Working inside such compromising labour conditions is increasingly a sociopathically-enforced, culturally acceptable self-harming activity. It is governed by extreme and unacceptable sets of behaviours, which themselves coalesce as pathological forms of managerialism.
And in the Covid-19 crisis, we are advised by WHO experts that speed trumps perfection, and that leaders need to act and to move, rather than be paralysed by the fear of failure.
And in the Covid-19 crisis, we see the British Society for Immunology arguing the two things that UniversitiesUK and the leaders of our institutions ought to have been calling for, or responding to, rather than offering a fractured and fragmented and separated set of responses, which simply amplify fear and anxiety.
Firstly, we feel more needs to be done to ensure social distancing to limit the number of COVID-19 cases in the short term, especially for vulnerable members of our communities. This will enable us to buy time until we understand the virus better and can begin to develop therapeutics.  Secondly, to aid efforts, we call on the government to release their modelling data to allow scrutiny from the scientific community to better predict the course of this outbreak.
And in the Covid-19 crisis, we hear stories of immunocompromised members of staff being told that they have to be on-campus rather than able to deliver materials online, because the priority is business-as-usual.
And in the Covid-19 crisis, we hear stories of the health of estates' staff being compromised.
And in the Covid-19 crisis, we hear of vice chancellors emailing staff to ask them to encourage students to be on campus, despite the institution delivering its programmes remotely in other locations
And in the Covid-19 crisis, we hear of international students upset at their College's lack of planning, which materially affects their well-being and possibility of returning to their families and loved ones.
And we hear stories of institutions not paying close attention to Guidance on immigration provisions made by the Home Office for individuals affected by travel restrictions associated with coronavirus (COVID-19).
And in the Covid-19 crisis, we note that there is a struggle for institutional and sector-wide reputation over responsibility, where 'slow and inactive universities … [are] leaving frontline staff unable to provide clear answers to distressed students'. Institutions are failing in terms of student and staff welfare and the deployment of their research expertise.
And in the Covid-19 crisis, we crowdsource a list of institutional responses, which highlights how abject is the moral geography of UK higher education.
And in the Covid-19 crisis, we watch as institutional leaders refuse to question the sagacity of herd immunity precisely because it is a narrative that underpins their need for a hypothetical, surplus-driven future, whilst others query that very focus upon a hypothetical future.
And in the Covid-19 crisis, we understand this as academia's shock doctrine, as we are placed in the front line of risk management in a crisis, where our responses are conditioned by student fees, service-delivery, business-as-usual, learning and teaching and assessment, rather than student and staff well-being and care. Thus, we understand how crisis intensifies academic work through a suggestion and then a demand for online education, without revealing the modelling or risk assessment behind this. This turns a temporary exertion into a permanent expectation, and to a permanent state of exception inside higher education. This risks further defunding, casualisation, monitoring and surveillance, and unbundling of the curriculum into the future. Because if we can do this now, in exceptional circumstances, then further revolutionising is possible. By moving online, institutions and their paymasters have a new precedent for casualised working, precarious labour, changing the relations of production based upon new forces of production, and so on, which have differential impacts on intersectional communities.
Moreover, in maintaining business continuity in the face of personal crises for those who must care, or who are sick, or who are immunocompromised, or who are precarious, our institutions work against a duty of care. As Audrey Watters argues:
Most students do worse online than they do in face-to-face classes; and that's particularly true for the most vulnerable students — for Black and Latino students, for those with lower GPAs, for low-income students, for younger students. Most students do worse online than they do in face-to-face classes; and that's under "normal" circumstances. These are not normal circumstances.
The crisis reminds us what we knew about our leaders and their lack of care for us, or it reveals to us how we have duped ourselves, or it shows us how much cognitive dissonance we have to deploy in order to survive their intensification of our lives, and it shows us to whom or what they give their loyalty. And it is not us.
It is not us.
---
Thus, the daily, repetitive, symptomatic illnesses of University labour, normally revealed as performance anxiety, overwork, hopelessness, and uncertainty are amplified in this crisis of Covid-19. The ways in which University workers attempt to cauterise or ignore their wounds usually focuses on the maintenance and reproduction of privilege and status and surplus masquerading as a labour of love, and this becomes more apparent in this urgent call for business-as-usual. We are told that we must continue to self-harm, and that this is culturally-acceptable, because this is a service of love inside the University-as-family.
We are told this as other bodies in sport and entertainment and professional networks demonstrate their clear connection to, rather than separation from society, by cancelling and postponing and maintaining social distancing. Yet inside institutions whose governance and regulation is allegedly predicated upon the student experience, this appears impossible. Our labour of love has crashed into their need for surplus and the extraction of surplus, and the dependence upon particular income streams or modes of student and institutional debt
As the Italian communist Bordiga argued, there is no control here, in spite of our leaders claims that they are responding to Government control with carefully-managed approaches to risk reduction, and it was ever thus.
[W]hen the ship goes down, so too do the first class passengers… The ruling class, for its part incapable of struggling against the devil of business activity, superproduction and superconstruction for its own skin, thus demonstrates the end of its control over society, and it is foolish to expect that, in the name of a progress with its trail indicated by bloodstains, it can produce safer ships than those of the past.
Of course, it is the commodification of University life, and the competing, corporate reality of the University that has led us here. And for some institutions, this is worsened because they are leveraged through bond financing and refinancing. What happens to those institutions and their ability to make repayments on bond yields, or to maintain surpluses given immediate revenue restrictions and potential long-term reputational damage? What happens to the maintenance of investment-grade credit ratings? What happens to student fees? How are they communicating their risk assessments and contingencies to their staff and students?
And what of the regulatory and parasitical need for league tables, and the ability to position funds and institutions around the REF, TEF, KEF, NSS? How are these to be managed now? What power do they have over our present and our future? Why have these not been postponed? Can we use our renewed struggle to call for their abolition?
And we ask, what is the point of the Office for Students and its value-for-money strategy in all this? In a world in which study is enmeshed inside financial markets, how can institutional leaders provide leadership for us? When they are pulled by the competition and markets authority, by student protection plans, by access and participation plans, and by league tables? How do we enact humane values in the face of economic value?
As some institutions move to focus upon the intensification of labour through online teaching, what is to be done? For some of us, we have spent the last month organising around four fights and strike action, and this has been joyous and a mark of association and solidarity. For some of us, this has been exhausting, and we have people to care for, and people who are vulnerable in our lives, and we deeply care about our institutions, our peers, our students and our friends. Yet this move to intensify and to continue as usual, is a potential moment of struggle for a different, more humane world. If we can find the energy.
Because all of a sudden, our institutional response has been shown to be mediated by the market, by the division of labour which tells us that some must lead and some must follow, by the reduction of all of pedagogical life to the commodity, and by the reduction of our lives to the power of the commodity. Such that our knowing, doing, and being are all subsumed to the commodity, and to surplus, intensification, productivity, value and the rule of money.
And all of a sudden there is a very bitter taste to those discussions around value in higher education.
---
The capitalist University-as-is cannot halt the systemic devouring of our present lives, in the face of the desperate institutional need to accumulate surplus in the future. The capitalist University cannot save us, because it is driven by short-term economic interests, rather than the long-term conditions of life. It is pathological; it is diseased; it functions through cultures of silence, obfuscation, paranoia, intensification, wait and see. It has lost control of the anxiety that gave it form and content through overwork and ill-being. This very anxiety has tipped beyond uncertainty into contempt, fear, anger, disbelief. This anxiety has made real the undercommons of the University as a moment of survival and of fugitive planning.
Crises are the very material of capitalist expansion, predicated upon the renewed exploitation of life and living labour. The moment of crisis and the individual and collective disasters that follow are the site of working class struggle. We are in a very real struggle in the University. We have generated new energy and new organising power through the strike. What do we do now with our indignation at the handling of Covid-19?
And I am reminded that years ago I spoke and wrote about whether universities care enough about students, or whether universities care too much about students. I argued:
as the corporate university tries to develop the characteristics of the entrepreneur in its students, it cares to discipline its labour-force through performance management and the rate of profit. However, inside and against this fragmented space, groups of academics and students are attempting to move beyond the pedagogy of debt, to define something more care-full, where the staff/student relationship can become the beating heart of an alternative vision for higher education as higher learning beyond the University and inside the fabric of society. This is the true psycho-social scope of care in these educational relationships.
Beyond the organisation of the strike, we make possible a movement for self-and communal-care. They cannot do this, because their power and privilege and status is predicated upon our everyday, ongoing, alienated labour-power. It is predicated upon our everyday estrangement from ourselves through exploitation. And so we ask, can we use this moment for emancipatory ends?
And we learn to remember ourselves.
¡Que se vayan todos!
They all must go.