The Hopeless University: Intellectual Work at the end of The End of History has been published by MayFly Books, and is available as a download from the MayFly website. If you do read/download from there please consider donating to support this valuable, radical open access press. NB it can be purchased from Amazon, although it is print on demand, so other retailers should be available.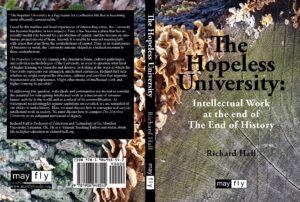 Endorsements can be viewed here.
There is a synopsis here.
There is a podcast here.
I presented some ideas, with a recording and Q&A here.
A video dialogue with Joel Lazarus on his Agent of History site will follow.
There is a published article here.
There is music by Rae Elbow and the Magic Beans here. NB a wonderful, full album in partnership with Rae Elbow will be released with the book. It's a multimedia sensation.
I'm presenting on this in June at both Durham University and also Adam Mickiewicz University in Poland. You will be able to sign-up for the latter from the Philosophy of Higher Education website.