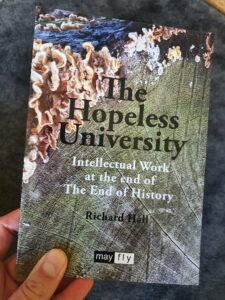 Whilst The Hopeless University can be purchased from Amazon, other retailers will be available through Ingram (who manage the print-on-demand service). Ingram distributes the new titles through its partners. However, there might be some differences in how fast the new titles are available in each vendor's catalogue.
A video dialogue with Joel Lazarus on his Agent of History site is available here.
Rae Elbow and the Magic Beans has also released a new album with the same name, available from his bandcamp site, here.
Finally, I'm presenting on this in June at both Durham University and also Adam Mickiewicz University in Poland. You will be able to sign-up for the latter, which takes place on 15 June at 1pm GMT (2pm CET) from the Philosophy of Higher Education website.