I currently have three events tied to the launch of The Hopeless University: Intellectual Work at the end of The End of History.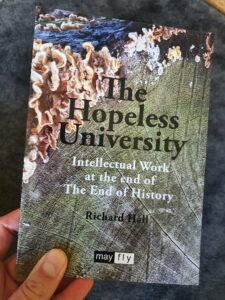 I am leading a staff seminar on June 29th in the Sociology Department at Durham University.
There is an open seminar at Adam Mickiewicz University in Poland on 15 June at 1pm BST (2pm CET), and you can sign-up from the Philosophy of Higher Education website.
You can book a place at the official book launch on July 2 at 3pm BST via this Hopeless University Eventbrite page.
I will be in conversation with John Coster and Paul Reilly of the Documentary Media Centre at 3pm on Friday 9 July. This will be hosted on Facebook Live by the Documentary Media Centre.
NB you can purchase a copy from a variety of places now.