I am really pleased that Krystian Szadkowski's brilliant deconstruction of the mess that higher education is in, and what is to be done is out now, with Palgrave Macmillan. The book is titled: Capital in Higher Education: A Critique of the Political Economy of the Sector.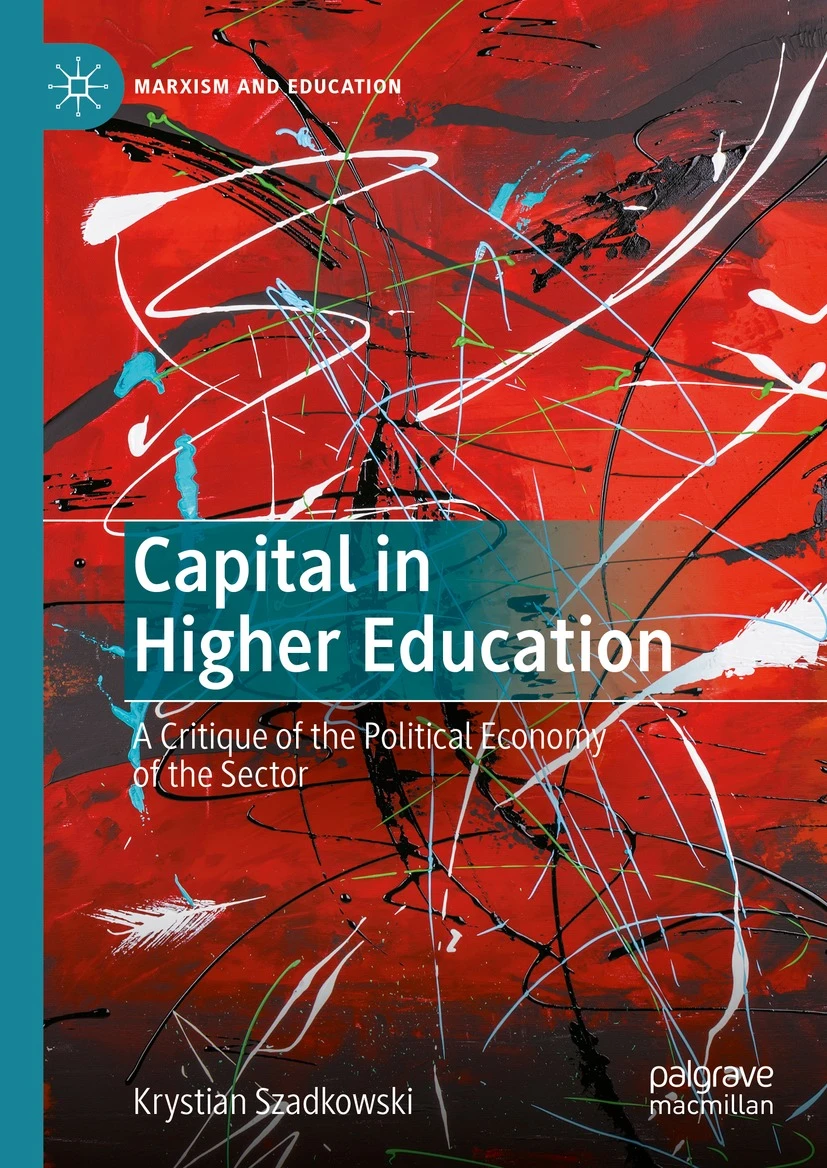 The book offers a systematic, sectoral, and in-depth Marxist perspective on the critique of political economy of higher education. It proposes an original method of analysis of higher education as a field of capitalist production, grounded at the intersection of mainstream higher education research and contemporary debates in Marxist theories. At the same time, it imbues a political perspective based on the embedding of higher education within the wider social network of antagonistic relations that traverse the capitalist economy at large.
My series editor's foreword is available, open access, here. In it, I note:
as Szadkowski's crucial work on Capital in Higher Education demonstrates, the construction and power of terms like value-for-money are situated against the political economy of the sector. For many, this situation remains a mystery, which Szadkowski seeks to uncover through a powerful critique that centres Marx's dialectical methodology, grounded in our particular, material history. The unfolding, material process of history is deeply entwined in our ways of knowing, doing and being in the world that people
may make their own history, but they do not make it as they please; they do not make it under self-selected circumstances, but under circumstances existing already, given and transmitted from the past. The tradition of all dead generations weighs like a nightmare on the brains of the living. (Marx, 1852)
Szadkowski seeks to help us understand these circumstances and their ontological ramifications for us. At the heart of this work is a desire to understand the unfolding relations between academic labour and capital in the reproduction both of the University and of socially useful knowledge. In this, Capital in Higher Education demonstrates how the connections between, first, the alleged autonomy of knowledge production, second, the quantification of outputs and impact and, third, the accelerated accumulation of the abundance of intellectual artefacts by educational publishers contribute to a terrain for the extraction of surplus-value that is dehumanising.
At the core of this is a deep methodological and ontological engagement with the material history of value theory, in an attempt to unpick how academic labour is conditioned and constructed for the measurement and commodification of knowledge. Understanding how value and markets erupt through processes of subsumption in a competitive, global environment that is itself stitched into a wider social terrain for valorising academic knowledge enables cultures of measure and measuring and prestige to be analysed. This is important because the value that can be materialised by measuring and commodified academic outputs, as a form of private property, is reinforced through a prestige economy that is mediated against an academic division of labour. Through the market, such outputs and measurements of prestige are brought into relation such that they might be compared.
In these days, Capital in Higher Education has lessons for us all.