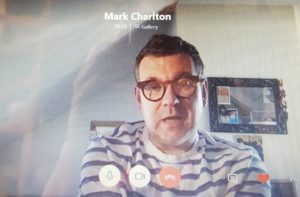 Following on from Episode 15, in which Mark Charlton and I discussed the genesis of The Coronavirus Diaries, we return to discuss the project and diary entries we have received so far. On the way, we discuss my current obsession with the 1980s and 1990s, the music of The The, whether Mark has been dreaming, and applauding key workers whilst looking our for the international space station.
For the first 5 minutes we sound a bit curmudgeonly. But then we are both old, middle-aged and entitled white men.
As ever, the music is by Rae Elbow and the Magic Beans.
Soul Mining by The The is amazing.
The No Nobhead Policy blog is here.